Home

/

PacVac Thrift 650 B-Pack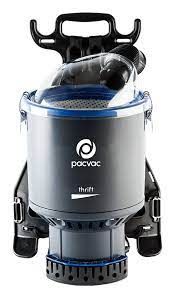 PacVac Thrift 650 B-Pack
47102
$297.00 (Inc GST)
Description
Description
Thrift 650 is fitted with entry level accessories making it a great, affordable option.
Thrift 650 provides strong suction power driven by the 1300W motor high productivity when deep cleaning in medium scale commercial environments.
The pre-motor cartridge filter and sealed disposable SMS dust bag offers the 4th level of filtration, improving air quality after use.
Vacuum motor 1300W single-stage flow through
Max Pressure 22.8KPa
Max Suction Power 307.0W
Noise level (at ear) 68.5dB(A)
Volumetric airflow (max.)34.4L/sec
Power source Mains, 18m power cord
Battery run-time N/A
Battery charge-timeN/A
Filtration 4-stage filtration with a pre-motor cartridge filter
Capacity 5L
Weight 4.8kg (excluding power cord and hose assembly)
* Suits Vaccum Bag 47105A
Customer Reviews and Ratings
No Reviews
Be the first to review this product!